Ocean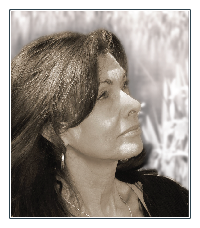 1.   She finishes her drink---the pain
of arrangements , road and weather conditions
that change daily.  With early April
the possibility of a spring blizzard is always a risk.
And when she travels alone
she unravels in the stress of it.
Still, she anticipates the break
in the tough shell of her year---
to breathe the fragrance
of the almost unreachable core.
The weather recedes.  The road clears.  She steps
into the pungent mist of the Oregon ocean air.
Lifted by this and the sudden sun
glistening long streaks on the water,
she settles into the tantrum screams of gulls
claiming home where she can only visit.
2. The trail to the high rocks blows through the evening
with a spray of salt, and opens to the tall stands
of evergreens across the bay, the flickering lights
of town, and the infinite ocean horizon.
Waves fall, shedding heaps of lace
in the spill.  Some race and crash the rocks.
Some slow down
and draw back.
She stands on a prominent rock
that watches the dark green ocean.  The moon
spills some light on her dress.
She turns and the wind lifts her hem and hair.
Pulling the lace of a wide tide over her shoulders,
She walks off with her shawl and leaves
a train of fragrance from her open shell
in the wake of a generous spill.
Copyright © 2011 Diane Prebula, All Rights Reserved!
Fall and Recovery
Exhale, inhale, weather weaving through—
traveling our veins, settling our bones,
as branches shift, leaves shiver,
release and turn, suspend and…
Autumn drops like a dancer falls.
Doris Humphrey captured a glimmer
in her classic bend of choreography—
nature's dilemma pulling us to our ground floor.
When we look up from the cellar, redemption draws us.
When we walk the path thick with leaves,
the wind calls through empty branches
like a runaway train that bays
with finality, and prostrates our best intention.
Collapse winters our plans.
Frost stamps our confidence to breathe its last.
Snow fills our mouths and deadens rampant desire
until we lie still and see
our glimmer of sun reaching through branches
to pierce our eyes.
When the snow shrinks, we stand on a muddy road
we never intended to travel.
Standing beside a fierce river and facing the hills,
we move without thinking, growing more certain with every step---
that this is our spring to surge.
Copyright © 2011 Diane Prebula, All Rights Reserved!